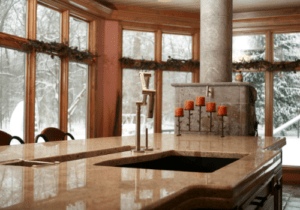 There are many decisions to be made when planning a kitchen remodeling project. The process and choices available can seem overwhelming. The best place to start is by setting a budget. How much can you afford to spend? Decide what is needed most and where you can compromise to stay within the budget.
Remodeling: Cabinets and Flooring
Many people begin planning for home improvement with the kitchen cabinets. They are not just for storing food and drinks but are a major style element in the room. They are often the focal point of the kitchen. The cabinets are a major expense in a remodeling project. They are often about half the budget.
Prices vary considerably according to the type, style, and material used in the cabinets. Whether they are stock, semi-custom, or custom designed cabinetry will also affect the price. The first step is to choose the style and color you want in new cabinets. Consider the style of your home. Cabinetry is available to fit traditional, country, contemporary or modern décor.
Once you have chosen the style, you will need to decide on the layout of the room. Are you happy with the current layout, or do you want something more functional? Consider any features you want in the cabinets, such as pull out shelves, wine racks, or other storage options. There are many styles of hardware. The handles you choose should fit the overall décor of the room.
When selecting flooring, it's important to choose based on both aesthetics and function. This is a high traffic area in most homes, and you will want a durable floor for everyday use. Of course, you also want it to match the overall design of the room.
Consider the price as well as the quality. Ceramic or vinyl tiles are very common, and both are affordable. Vinyl is the least expensive choice. Hardwood or stone flooring are more expensive alternatives but add beauty. Hardwood is functional but requires more maintenance than other types. Stone is very durable and long-lasting. Darker grout with stone or ceramic tile is good for resisting stains.
Kitchen Remodeling: Countertops and Fixtures
Countertops should match the style of both the cabinets and the floor. They are priced according to the material used. Granite, slate, or marble are durable but also expensive. Corian is another durable solid surface that is very popular right now. Consider the function of the counter and how it will be used.
Sinks are generally not expensive, but it depends on the material. Sinks are available in a variety of materials and prices. Stainless steel and porcelain are the most commonly used materials for kitchen sinks. Cast iron with enamel is durable but can chip and scratch easily. Faucets also vary in price and style. Look for fixtures that match the décor of the kitchen.